Amelia Elizabeth Dyer was born in 1836, she was the youngest of five children, she had three brothers and a sister. She lived in a small village just outside of Bristol called Pyle Marsh, the father was a shoemaker, but her childhood was beyond normal.
She spent most of her childhood caring for her mother, who had a mental illness, as well as Typhus (contracted through fleas). She learned to read and write and developed a love of literature and poetry while caring for her mother until she died in 1848. After her mother's death, Amelia lived with an aunt in Bristol for a while. This was before serving an apprenticeship with a corset maker. Her father died in 1859, her brother inherited the shoemaking business.
In 1861, she moved into lodgings in Trinity Street, Bristol. There she married George Thomas. George was 59; she was 23, they both lied about their ages on the marriage certificate, to reduce the age gap. The reason for this wasn't noted, but one possible cause could be an embarrassment, to limit the amount of gossip in the small town.
After the marriage, Amelia trained as a nurse, being a nurse was hard work but gave Amelia skills and knowledge. This was when she met Ellen Dane, who provided her house to a young woman who had conceived children out of wedlock. However, she did allow children to die from malnourishment. But "farming" children was a much easier way to make money, allowing unwed mothers to easily remove babies from their care.
The Poor Law Amendment Act of 1834 made it, so fathers of illegitimate children were not obligated by law to support their children financially, leaving many women without options. This gave Amelia Dyer an easy way to make money. After for the acceptance of the children as well as the homing of the child. In 1869 after the death of her husband and birth of her daughter, this is when she started "baby farming".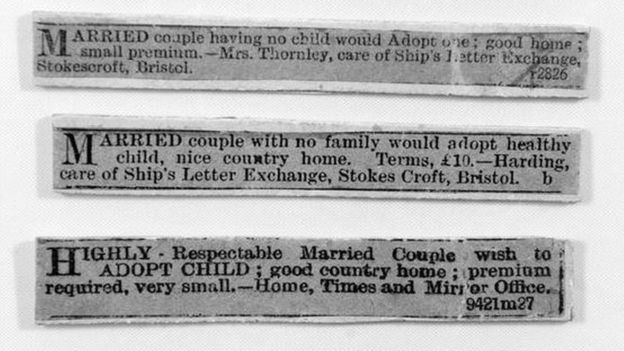 Although this option seemed like a good way to make money, as well as being safe for the children. Often the children were mistreated and even killed. This was no different for Amelia, as she would be known as the "The Reading Baby Farmer" or "the baby farmer".
Amelia began advertising in the late 1860s, once she had the babies in her care, she later realised that it was much more financially beneficial if the babies where dead. Originally, she would kill the babies through overdose, through an opioid solution (this was used at this time to "sooth" a baby).
In 1879, Amelia had killed many babies, a doctor quickly became suspicious. He reported her to authorities, she was sentenced to six months in a labour camp for neglect. Once released, she placed more advertisements, when any infants died, she would depose of the bodies and gain more money. If the parents returned, she would give them a different baby.
If she thought she was going to be caught by authorities, she would check herself into an asylum. She also would move around a lot; this would help with the police as well as previous parents. On March 30, 1896, the police recovered an infant body in the River Thames. It was wrapped in layers of linen, newspaper and brown paper. This baby would be the reason Amelia would be caught, the police traced the body back to Dyer's home, where they found more evidence linking her to the murder as well as others.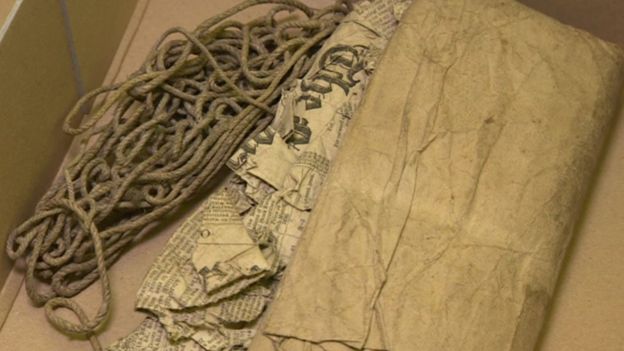 Amelia Dyer was arrested, charged with murder and brought to Newgate Prison where her plea for insanity was rejected. Whilst in Reading, Dyer wrote the following confession, which was presented to the inquest onto the babies' deaths: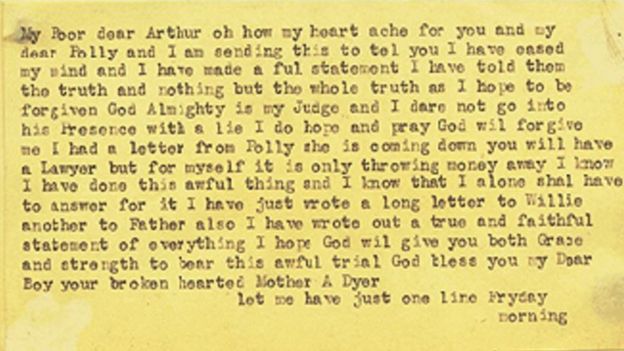 After a jury meeting of just four minutes, Dyer was condemned. Although she was charged for six murders, it is speculated that she may have killed 200+ between 1880 and 1896.
Some of her victims:
Doris Marmon, 4 months old
Harry Simmons, 13 months old
Helena Fry, age unknown, 1-year-old or younger
On June 10, 1896, Amelia Dyer was hanged outside the Newgate Prison. Residence looked on and made crosses to commemorate the death of the poor babies in her care.
After these murders Adoption laws were subsequently made stricter, giving local authorities the power to police baby farms in the hope of stamping out abuse. However, this didn't stop the abuse of children, many more children and babies where recognised as a type of farming abuse. this occurred up and down the country as well as all around the world.
Because she was a murderess alive at the time of the Jack the Ripper killings, some have suggested that Dyer was Jack the Ripper…. As I have discussed on my previous blog, there was a theory that jack the ripper was indeed a woman. This theory seems slightly far fetched as the motives were completely different.  
Further information:
https://criminalgenealogy.blogspot.com/2016/10/amelia-elizabeth-dyer.html
https://commons.wikimedia.org/wiki/Category:Amelia_Dyer
https://www.thefamouspeople.com/profiles/amelia-dyer-34349.php